Welcome to the inaugural class of the Masters in Advanced Studies in Integrated Crop Management. The programme was launched at the beginning of March in 2015 and rounded up in November 2015 with a graduation ceremony.
The MAS in ICM 2015 review highlights the significance and coverage of the course and also features feedback and progress report from students.
Interviews with the inaugural class of 2015
Class of 2015 biographies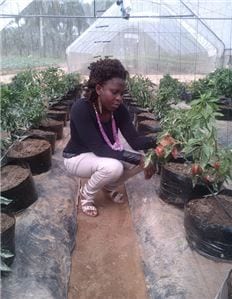 Raymonda Johnson - Sierra Leone
I work at the Ministry of Agriculture Forestry and Food Security, Sierra Leone, based in Freetown. Presently, I am Acting Assistant Director and Head of Crop Protection Service. I oversee many daily activities for the Ministry to supervise pest and pesticide management. I lead training and best practice for phytosanitary control at the national borders. I act as a technical adviser to the government on pest resurgence and outbreaks and how to respond, including best practice for procurement of agro-chemicals and protective equipment. Day-to-day I prepare work plans and budgets for our unit and keep it running smoothly.
As part of my role at the Ministry, I oversee operations of plant clinics- training plant doctors, supporting plant clinic data management creating new resources like factsheets and Green and Yellow Lists, and implementing a monitoring and evaluation strategy. In Sierra Leone and around the region I collaborate with a wide network of researchers, academics, agro-dealers and other stakeholders.
During the MAS in ICM, I am interested in improving my skills and gaining more knowledge on Integrated Crop Management. I will bring this new knowledge back home and improve our agricultural sector- especially in my area of pests and pesticide management. I am also deputy national coordinator; master trainer for Plantwise.
Alexandre Rutikanga - Rwanda
I am currently a lecturer at the University of Rwanda, College of Agriculture, Animal Sciences and Veterinary Medicine (UR-CAVM). I hold an MSc in Crop Science, Major Crop Protection (Agricultural Entomology) from Makerere University, Uganda. My teaching and research focus on Agricultural Entomology and Nematology, including Integrated Pest Management (IPM). Before joining UR-CAVM, I was a scientist working for CGIAR at Bioversity International sub-Saharan Africa, based in Kigali.
So far I have published over 10 scientific publications, including book chapters and I have also written factsheets to guide identification and management of crop pests in Rwanda. Through my work at the University of Rwanda, I have supported implementation of Farmer Field Schools on potato and successfully developed grant projects funded by the University and the Swedish International Development Agency (Sida).
I represent the UR-CAVM in the National Implementation Team for the Africa Human Capital in Science, Technology and Agripreneurship for Food Security Framework (AHC-STAFF). I'm also a member of the steering committee representing universities; Plantwise focal point at University of Rwanda and I supervise students at plant clinics.
José María Gómez Vargas - Costa Rica
I am originally from Costa Rica, but I consider myself a 'traveling agronomist' since I have studied and worked in Guatemala, Honduras and the United States, all countries where agriculture is one of the most important sectors. I received my undergraduate degree from Zamorano University, Honduras, in Agricultural Engineering. After graduation, I worked for a tomato production farm as the greenhouse production manager. The next step in my studies took me to Iowa State University where I earned an MSc in Crop Production and Physiology, and worked as a research assistant in the Agronomy Department.
I have worked as a research assistant and as a teaching assistant in the Botany and Plant Pathology Department at Purdue University in the United States. The research that I have been involved in includes, but has not been limited to, chemical weed management, biological and physiological traits that allow weeds to adapt to glyphosate resistant crops, weed management in organic agriculture, cover crops, and weed-crop competition studies. Even though my training has been devoted to crop management, I am motivated by a strong personal commitment to food security and international agricultural development.
Musa Paul Chidinda - Tanzania
I work at the Ministry of Agriculture Food Security and Cooperatives, Tanzania, based in Dar el Salaam. I'm holding the role of an agricultural officer. I made my Bachelor degree in Agriculture General. In my day-to-day work I participate in control and management of migratory pest throughout Tanzania and I'm engaged in phytosanitary measure activities.
In Plantwise I have several responsibilities such as: overseeing the data collection and management system; coordinating data harmonisation, validation, and analysis; liaising with the knowledge bank team for assuring regular submission of plant clinic data; sharing key issues to national stakeholders arising from data analysis. #
I am also national data manager for Plantwise.
Maureen Mwangangi - Kenya
At the moment I work as a plant health inspector at the Kenyan Health Inspectorate Service (KEPHIS). KEPHIS is the National Plant Protection Organisation in Kenya whose responsibility is to assure the quality of agricultural inputs and produce in order to prevent negative impacts on human health, the environment and the economy. I hold a BSc and MSc degree in biotechnology.
My day-to-day work involves inspection of plants and plant produce which are imported and exported from Kenya. I oversee national phytosanitary standards to work towards keeping our crops free of pests and diseases. I also make inspections of quarantine and bio-containment facilities and participate in introducing new biological control agents to Kenya. For this I need to evaluate dossiers and undertake pest diagnosis in the molecular and virology laboratories. I also manage the tissue culture laboratory by preparing and executing schedules while participating in cleaning, multiplication and exchange of germplasm.
I am an agronomist (BSc degree from Makerere University, Uganda) in the field of innovative horticulture production and plant protection. In this field I have attended several trainings in Rwanda, Kenya, Japan and China.
Since 2009, I have been working for the Rwanda Agriculture Board (RAB) as a research assistant and plant protection officer. I did pioneer work in planting watermelons and mangos in Rwanda on large scale. In the past years, these crops where all being imported. Today, however, thanks to that effort one can buy locally produced watermelons and mangos on the Rwandan markets.
Due to my experiences in this field I am a published expert on watermelon. I'm also a trained plant doctor of the CABI-led Plantwise programme. I coordinate plant protection activities in the Eastern Province of Rwanda. I'm passionate about applying international best practices in Rwanda's horticulture. I'm also plant clinic province coordinator and a plant doctor for Plantwise.
I hold a BSc in Agriculture from the University of Cape Coast, Ghana. The past five years I was working as an Assistant Regional Officer for the Plant Protection and Regulatory Services of the Ministry of Food and Agriculture in Ghana. As part of my role at the Ministry, I currently monitor pest management activities and ensure the enforcement of regulations on the importation, distribution and final use of pesticides and fertilizers in Ghana.
During the MAS in ICM, I am interested in improving my skills and gaining more knowledge on pest and diseases management practices with a minimum usage of pesticides.
At the end of the MSc Programme I hope to be better equipped to help farmers in Ghana reducing crop losses to pests and diseases. I'm also plant clinic province coordinator; province data manager and data validator for Plantwise.
I work for the Ministry of Agriculture under the Zambia Agricultural Research Institute as a Research Officer. For the Plant Protection and Quarantine Division I work as a Nematologist and Entomologist and I am based at Mount Makulu Central Research Station in Chilanga, Lusaka. I hold a BSc in biological sciences from the University of Zambia and an MSc in nematology from the University of Ghent, Belgium.
My duties include but are not limited to insect and nematode identification and control, planning and implementing on farm trials, developing appropriate agricultural technologies, developing and preparing research protocols, presentations, manuscripts and surveys, carrying out any other related activities to ensure specialist services are provided to stakeholders. Currently I am also involved in Plantwise programme as a master trainer and data validator.
I also contribute to the development of extension materials (e.g. Factsheet for Farmers, Pest Management Decision Guides) through a Plantwise process. I'm also master trainer and data validator for Plantwise.
Frehiwot Sileshi Woldetsadik - Ethiopia
In 2008, I graduated with a Bachelor's degree in Plant Sciences from Hawassa University, Ethiopia, following which I completed my MSc degree in Weed Science at Haramaya University. Since July 2011, I'm working at Ambo University, in Central Ethiopia, in the Department of Plant Science as a lecturer. I teach different courses such as weed and weed management as well as plant ecology. I also supervise graduate students, conduct research in the field of weed management and participate in community service activities.
In 2014, I have attended a fellowship on Integrated Pest Management and Food Safety at Wageningen University in the Netherlands. I am highly motivated to upgrade my research as well as educational level in the field of crop production because it is essential for sustainable agricultural development. During the MAS in ICM, I am interested in improving my skills, knowledge and research experience in the field of Integrated Pest Management as this will help me to contribute to farming livelihood improvement and economic growth of my agricultural based country, Ethiopia
Muhammad Rizwan Khan - Pakistan
I hold a Bachelors and Masters degree in Agriculture (Soil Science) from University of Agriculture Faisalabad, Pakistan. During my studies I did research in the field of heavy metal contaminated soils and its effects on plant growth. Since 2010, I've worked as an Agriculture Extension Officer in the Pakistan Agriculture Department. My work experience in the field of agriculture has given me a lot of confidence and insights in understanding aspects of Integrated Crop Management.
Through Plantwise, I trained with CABI in different techniques and technologies used in solving the problems of farming communities. As my studies mainly concentrated in soil science I'm looking forward to deepen my knowledge regarding the identification and management of pest and disease problems. I am sure that a MAS degree from Switzerland will definitely widen the horizons of my knowledge and help me attain a milestone in my career, since it would not only give me a detailed insight to the subjects of my interest but also improve my chances of future technical growth. I'm also plant clinic district coordinator; data validator and a plant doctor for Plantwise.
Arulanandam Vakeesan - Sri Lanka
I have over seven years of work experience in both non-profit and academic agricultural development. After earning a bachelors' degree in agriculture from University of Jaffna, Sri Lanka, I started my career with several projects mostly related to the transfer of technical knowledge to the grassroots farming population via agricultural extension system in Northern Province of Sri Lanka.
I have worked with Japan International Cooperation Agency, with Deutsche Gesellschaft für Internationale Zusammenarbeit (GIZ) and with World Vision International promoting implementation of integrated farming approach, especially those aimed at improving food security in the tsunami war affected regions. I also served as an Assistant Lecturer at Department of Agricultural Biology, University of Jaffna. With CABI, my work has become more unique and prominent – both as a Farmer Field School (FFS) expert and Field Technician in the Going Green project.
I'm also a former CABI associate coordinating plant clinic establishment and operations with partners in Northern Province.