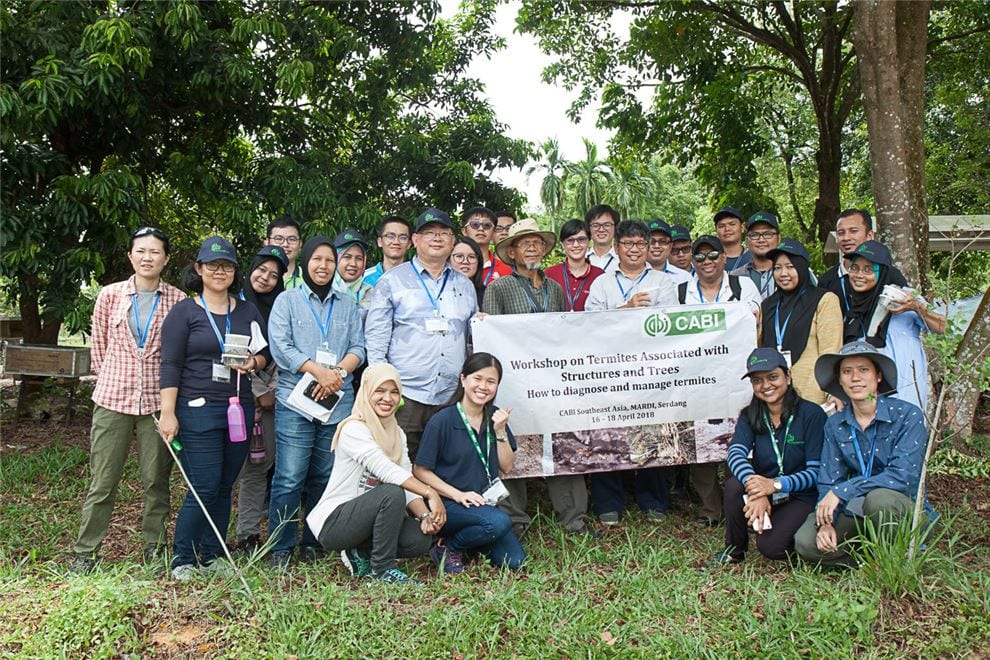 CABI scientists have held a successful three-day workshop exploring how to diagnose and manage termites associated with structures and trees in the tropics.
The workshop, held at CABI's South East Asia (SEA) office building at MARDI in Serdang, Malaysia, highlighted termites as ecologically important insects with significant roles to play as decomposers but also as pests that can cause major damage to trees and buildings.
Dr Sivapragasam Annamalai, Regional Director of CABI SEA, officially opened the event which included a welcome by CABI CEO Dr Trevor Nicholls. The participants learnt that termites are of great interest to both entomologists and those concerned with pest management.
CABI scientist Hong Twu Chan said, 'The complex social systems and nest building of termites make them fascinating subjects for studies of insect behaviour.
'The workshop was a primer on termites which focused on key termite species in Malaysia and their management.'
The aim of the workshop, which was attended by 22 participants from 19 different public and private sectors, was to:
Understand the natural history, ecology and behaviour of major termites
Identify main species of termites in various ecosystems
Recognize signs and symptoms of termite infestations
Learn the fundamentals of termite pest management and how to control termites.
Dr Ahmad Said Bin Sajap, formerly a Professor of Entomology at the University Putra Malaysia (UPM) and a certified arborist, led a field trip around the MARDI campus where a huge infestation of termites was found. The specimens were further identified in the classroom with the guidance of Dr Sajap and Ms Ong Su Ping.
On the final day of the workshop Mr Shahrem Md. Ramli, from Ensystex Malaysia, shared insight into more than 10 years' experience in termite control working in an international pest control company. The team was then shown how to control the termites using equipment and tools.
Additional information
See more pictures from the workshop as part of a photo special on the CABI 'hand picked…and carefully sorted blog' here: http://bit.ly/2rh8cQX