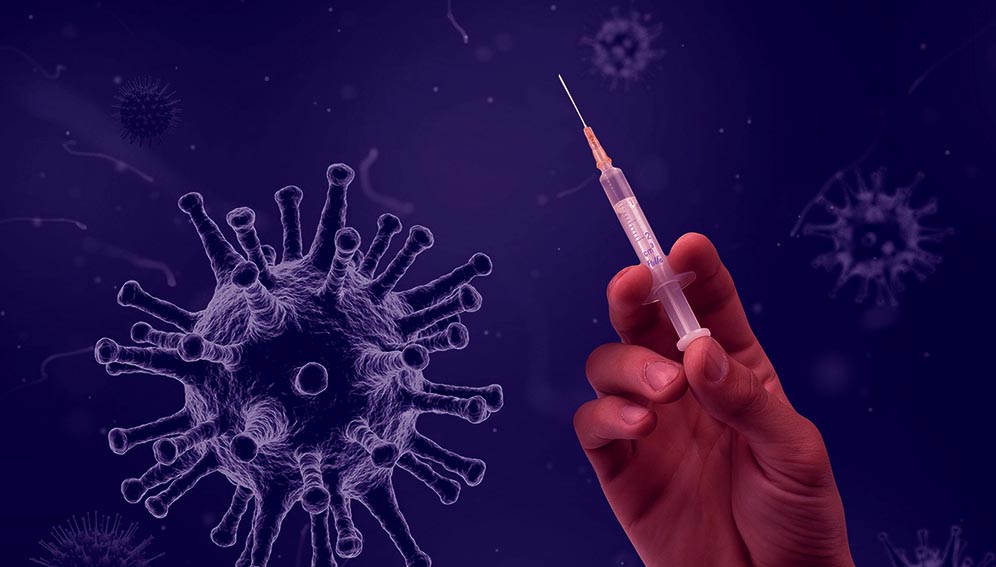 SciDev.Net's vaccine podcast mini-series – exploring myths and misinformation surrounding the COVID-19 pandemic and Africa's response – has won a silver award in the audio category of the prestigious AAAS Kavli Science Journalism Awards.
Three episodes – published as part of SciDev.Net's Africa Science Focus podcast – caught the judges' attention before winners were announced on 10 November 2021. These included the programmes 'Science and you: Africa's COVID-19 vaccines,' 'Debunking COVID-19 myths and remedies,' and 'Rising COVID-19 cases and vaccine doubt.'
The winning reporters in each episode are, respectively, Brook Abdu, Charles Pensulo and Jubiel Zulu. The podcasts are presented by Selly Amutabi.
Independent panels of science journalists select the winners. The awards program, endowed by The Kavli Foundation, drew entries from 47 countries in this year's contest. The winners will receive their awards in a virtual ceremony held in conjunction with the 2022 AAAS Annual Meeting in February.
The judges praised the series as a great example of journalism in service to the community. "This engaging set of stories answered listeners questions in real time, tackling misinformation head-on, countering it with reliable and well-sourced information," said judge Tina Hesman Saey, a staff writer for Science News. "Giving people correct information and dispelling myths and disinformation is one of the most important roles journalists could serve in this pandemic. The staff at SciDev.Net have served that role admirably."
Christie Aschwanden, a freelance science journalist and author, said the series featured "diverse voices and wide-ranging reporting on vaccine doubts, pervasive myths about COVID and questions about vaccines. The result is a compelling and unique look at how the COVID-19 pandemic is playing out in Africa."
Ben Deighton, Managing Editor at SciDev.Net, said winning the award is testament to the quality of journalism which serves to give African journalists a platform to discuss how science affects their communities as well as give African researchers an opportunity to highlight their work to European and African audiences.
Mr Deighton said, "Everyone at SciDev.Net is extremely proud to win this award which endorses our overall mission to use independent journalism to help individuals and organisations apply science to decision-making in order to drive equitable, sustainable development and poverty reduction.
"Clearly the coronavirus pandemic has hit the world hard but particularly on the African continent. Here, the mini-series explored the myths and misinformation around the virus including the unequal access to proven vaccines as well as questions around 'traditional remedies' believed to cure people from the disease.
"I'm delighted with the tenacious approach taken by all the journalists involved in the winning entries in their attempts to answer very important questions which, ultimately, served to help raise the issue, stop the spread of COVID-19 and help save lives."
Sudip Parikh, CEO of AAAS and executive publisher of the Science family of journals, said, "Congratulations to the talented journalists who enlightened their audiences about the science of the global pandemic, about efforts to diversify and strengthen the research enterprise, and about the beauty and complexity of the natural world.
"These awards continue to spotlight the value of informed, thought-provoking journalism."
Last year, SciDev.Net won a share of a €940,000 pot of grants from the European Journalism Centre to launch a weekly podcast examining science and health issues in sub-Saharan Africa.
The award, one of eight handed out as part of the European Development Journalism Grants programme, has allowed SciDev.Net the chance to give African journalist a platform to talk about how science affects their communities and give African researchers an opportunity to highlight their work to European and African audiences.
The grants are supported by the Bill & Melinda Gates Foundation and over the past five years have already supported 11 media organisations France, Germany, the Netherlands, Sweden and the UK to report on global challenges.
SciDev.Net is the world's leading source of reliable and authoritative news, views and analysis about science and technology for global development. It is editorially independent from CABI and its content overseen by an independent Editorial Advisory Committee whose role is to ensure our editorial independence protocol is adhered to.
Additional information
Main image: Photo used to accompany one of the prize-winning articles in the as part of SciDev.Net's Africa Science Focus vaccine mini-series (Copyright: Image by Wilfried Pohnke from Pixabay).
About the AAAS Kavli Science Journalism Awards
Since their inception in 1945, the AAAS Science Journalism Awards have honoured distinguished reporting on science by professional journalists. The awards, an internationally recognized measure of excellence in science journalism, go to individuals (rather than institutions, publishers or employers) for coverage of the sciences, engineering and mathematics.
In recognition of a generous endowment in 2009 by The Kavli Foundation that ensured the future of the program, the awards are now called the AAAS Kavli Science Journalism Awards. Kavli doubled the endowment in 2015, allowing us for the first time to make the competition truly international. All categories of the competition are now open to journalists doing work for independent news organizations around the globe. As always, independent judging committees select the winning entries based on scientific accuracy, initiative, originality, clarity of interpretation, and value in fostering a better public understanding of science and its impact.
In each category, there are now two awards: Gold, with a prize of $5,000, and Silver, with a prize of $3,500. The awards are presented each year at the AAAS Annual Meeting in February. Entrants agree that, if they win, they will attend the awards ceremony, unless prevented by circumstances beyond their control. The award includes reimbursement for travel and hotel expenses. In cases of multiple authors or producers, only one person's travel expenses will be covered.
About SciDev.Net
SciDev.Net is the world's leading source of reliable and authoritative news, views and analysis on information about science and technology for global development.
Its mission is to help ensure that science and technology has a central role and positive impact on sustainable development and poverty reduction in the global South. SciDev.Net is currently owned by the Centre for Agriculture and Biosciences International (CABI).
While its main office is based in the UK, SciDev.Net has a worldwide network of staff, registered users, advisors, consultants and freelance journalists, predominantly from developing countries, who drive its activities and vision.
Official press release
An official press release from the 2021 AAAS Kavli Science Awards has been published and can be read here.
Related News & Blogs
CABI News
27 November 2023