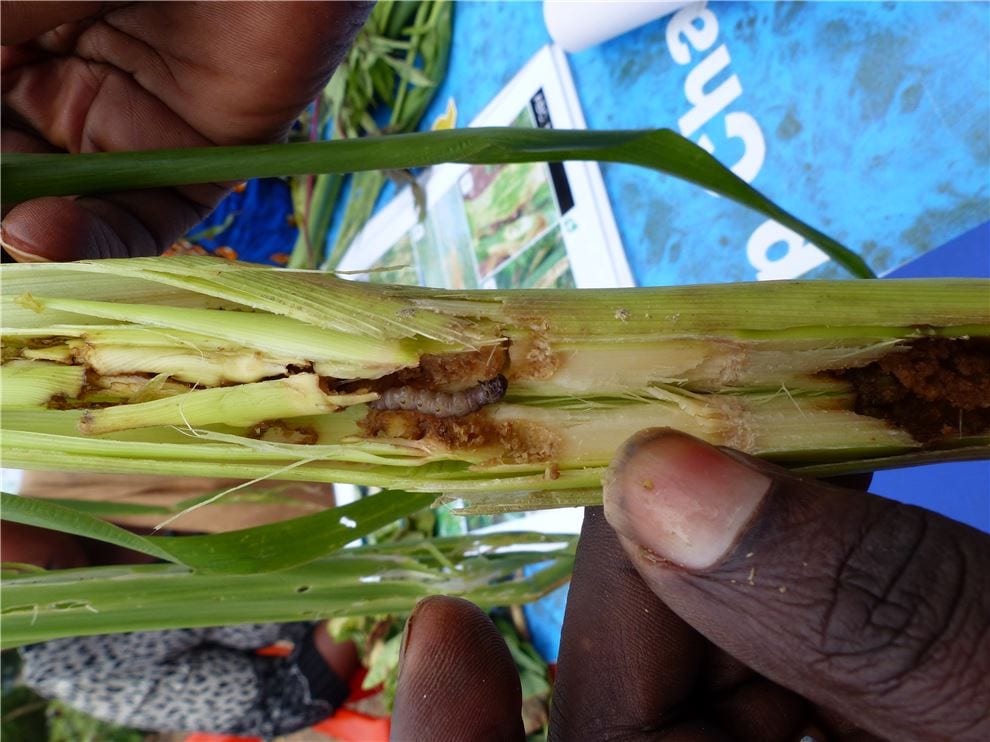 CABI is leading a consortium, funded by the UK Space Agency's International Partnership Programme (IPP), developing a Pest Risk Information Service (PRISE), which uses state-of-the-art technology to help inform farmers in sub-Saharan Africa of pest outbreaks that could devastate their crops and livelihoods.
The service was launched on Tuesday 05 December 2017 at the British High Commission in Lusaka, Zambia.
Datasets obtained from a combination of the plant-pest lifecycle, earth observation and satellite positioning, are being used to spearhead the fight against pests that devastate an estimated 40% of the world's crops. The project will help farmers fight back against potentially disastrous pests such as the Fall Armyworm.
The project consortium includes UK partners from Assimila, Kings College London, the Centre for Environmental Data Analysis. The technology being deployed better places CABI's Plantwise plant clinics to give timely alerts and advice to farmers, in person and by tablet or smartphone so they can respond more efficiently to the risks posed to their crops.
Brian Siame, who runs a Plantwise plant clinic in Zambia, said, 'This application helps me to communicate with other plant doctors who are part of the group. Despite the long distance between us, we regularly share pictures of pests or diseases and help each other diagnose. A good example is when we had the outbreak of Tuta absoluta and more recently the Fall Armyworm.'
The PRISE project, whose other partners include the Zambia Ministry of Agriculture and the Zambia Agriculture Research Institute (ZARI), is expected to be rolled out to five further sub-Sarahan African countries in due course.
Cambria Finegold, Global Director, Knowledge Management, said, 'CABI's recent evidence note on Fall Armyworm, funded by the UK Department for International Development (DFID), predicts that this species' effect on maize losses in just 12 African countries could range from 8.3 to 20.6 million tonnes per year – let alone the risks posed by other pests.'
'It is vital therefore that we use the very latest in technology and work in partnership to bring the best insights on pest population behaviour right to the farmer's door.'
Ray Fielding, Head of the International Partnership Programme at the UK Space Agency, said: 'We are delighted to be working with CABI to help transform the lives of farmers in sub-Saharan Africa. The £6.3 million of funding from the UK Space Agency will see CABI provide pest risk predictions in time for farmers to take vital preventive action and thus increase resilience to pest outbreaks. Innovation is essential to provide new solutions to the problem of pest outbreaks, and this project combines novel EO technology, satellite positioning, plant health modelling, and on-the-ground real-time observations to deliver a science-based service for sub-Saharan Africa.'
For more details on PRISE please visit the project page.
About CABI
CABI is an international not-for-profit organization that improves people's lives by providing information and applying scientific expertise to solve problems in agriculture and the environment.
Through knowledge sharing and science, CABI helps address issues of global concern such as improving global food security and safeguarding the environment. We do this by helping farmers grow more and lose less of what they produce, combating threats to agriculture and the environment from pests and diseases, protecting biodiversity from invasive species, and improving access to agricultural and environmental scientific knowledge. Our 48 member countries guide and influence our core areas of work, which include development and research projects, scientific publishing and microbial services.
We gratefully acknowledge the core financial support from our member countries (and lead agencies) including the United Kingdom (Department for International Development), China (Chinese Ministry of Agriculture), Australia (Australian Centre for International Agricultural Research), Canada (Agriculture and Agri-Food Canada), Netherlands (Directorate-General for International Cooperation, and Switzerland (Swiss Agency for Development and Cooperation). Other sources of funding include the fees paid by our member countries and profits from our publishing activities which enable CABI to support rural development and scientific research around the world.
Press contact
Wayne Coles
Communications Manager
Telephone: +44 (0)1491 829395 Email: w.coles@cabi.org
Related News & Blogs
CABI News
18 September 2023