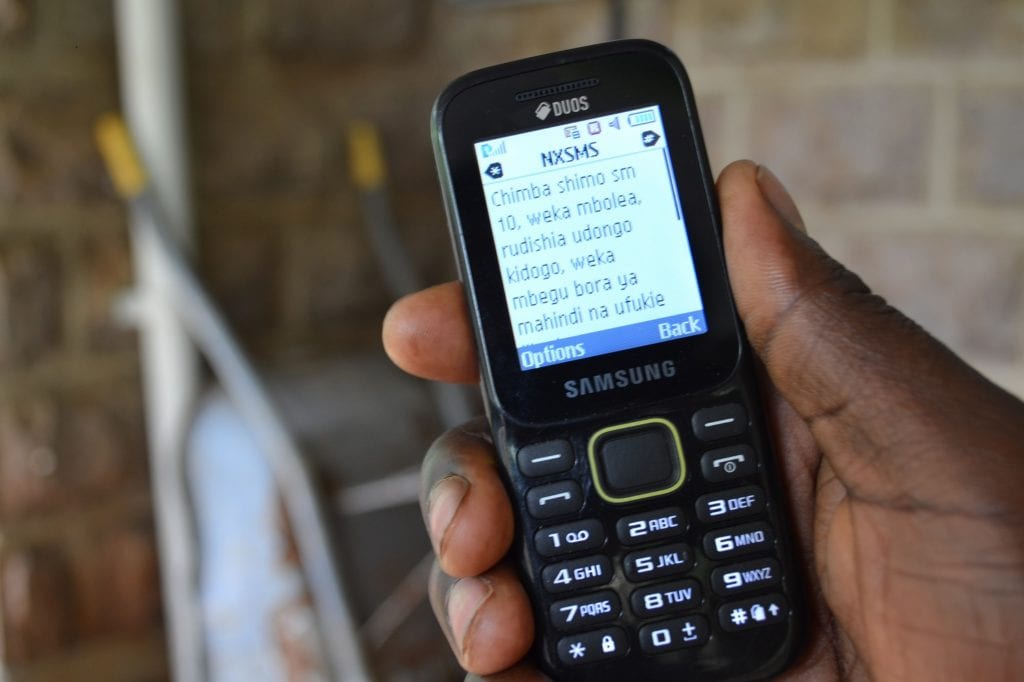 Lessons have been learnt from a major mobile phone campaign aimed at helping farmers in Tanzania 'sow the seeds' for greater food security by planting more resilient maize and fighting crop pests including the Fall armyworm Spodoptera frugiperda stalk borer Papaipema nebris.
CABI has reviewed the outcomes of an innovative ICT project which, between 2016 and 2018, sent over 3.5 million SMS messages to over 55,000 farmers advising them to plant Uyole Hybrid varieties of maize and fight the Fall armyworm and stalk borer with appropriate pesticides management measures.
More than two thirds of Tanzania's population depend on small-scale agriculture for employment and livelihoods but farmers have in the past been slow to adopt agricultural technologies which can help increase their yields and profitability.
The Upscaling Technologies in Agriculture through Knowledge Extension (UPTAKE) project, funded by IFAD through the USAID ICT Extension Challenge Fund, sought to use mobile phone SMS messages and radio to complement, traditional forms of agricultural extension, to reach farmers with advice on better crop and pest management.
Lucy Karanja, lead author on a new paper published in Data Science Journal, sets out the findings of the UPTAKE project review.
Ms Karanja said, "In Tanzania more than 80 percent of people own a mobile phone. This makes it easier to disseminate information and support data-driven decisions in small-scale farming and the adoption of innovations to not only increase productivity and profitability but also increase food security.
"However, while the mobile SMS messages had positive impacts – for example, 62 percent of recipients surveyed said they had implemented changes in their agricultural practice including the scouting of pests, we did learn lessons from the campaign.
"These included the need for more targeted recruitment to improve access to information for women as only 27 percent of females were on the database to receive messages compared to 73 percent men."
Other recommendations include the need for local officials, experts, farmers and suppliers to be 'integral partners' in the farmer recruitment process and for farmers to have the ability to 'opt out' of the scheme in case they do not want to be part of it for another cropping season.
The paper also highlights the need for 'flexibility and rapid response' to changing circumstances and emerging situations. For example, during the 2016/2017 planting season, the Tanzania Meteorological Agency forecast that while rainfall was expected in late December 2016, which would be favourable for planting, it would not sustain long-duration crops and advised farmers to grow drought tolerant and early maturing crops. The Tanzania Agricultural Research Institute (TARI) Uyole, a partner in the maize campaign, picked up on the agency's warning and alerted the UPTAKE team who then advised farmers using text messages.
Ms Karanja added, "Providing smallholder farmers with support through conventional government extension approaches is challenging as the number of extension agents is decreasing.
"New information and communication technologies (ICTs), such as short messages (SMS) sent via mobile phones, show considerable promise so long as they are available to all farmers or key influencers and provide content suited to their diverse locations and circumstances."
UPTAKE, part of the Africa Soil Health Consortium (ASHC), aimed to increase uptake and adoption of agricultural innovations promoted under the Scaling Seeds and Technologies Partnerships (SSTP) in Tanzania. The project used a campaign approach using radio and mobile (SMS).
CABI led the mobile component disseminating good agricultural practices in the form of SMS through the Esoko platform, while Farm Radio International, a Canada-based not-for-profit organisation, led a radio component.
Additional information
Full paper reference
Lucy Karanja, Stephanie Gakuo, Monica Kansiime, Dannie Romney and Leonard Sabula, 'Impacts and challenges of ICT based scale-up campaigns: Lessons learnt from the use of SMS to support maize farmers in the UPTAKE project, Tanzania', 2019, Data Science. DOI: 10.5334/dsj-2020-007
The paper is available as an open access document here: https://datascience.codata.org/articles/10.5334/dsj-2020-007/
UPTAKE project page
Find out more about Scaling up interactive ICT to increase agricultural innovation in Tanzania from the project page.
Related News & Blogs
CABI News
24 January 2022