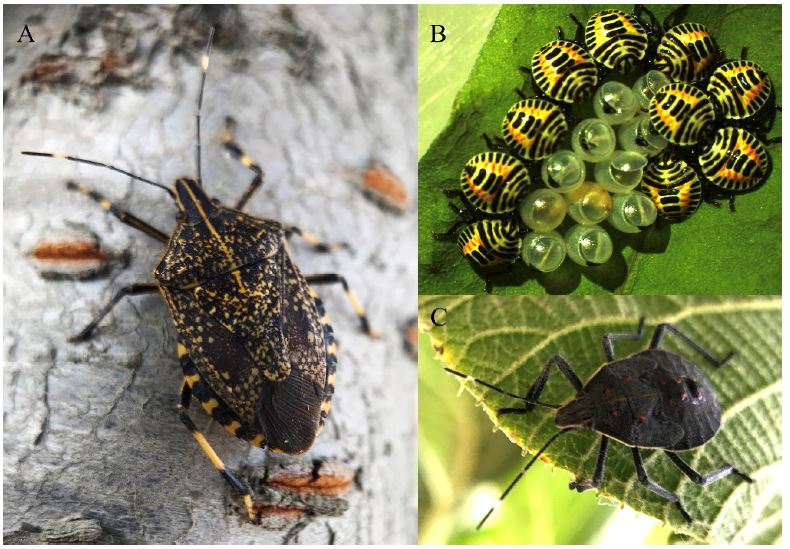 The Centre for Agriculture and Biosciences International (CABI), through its work within the MARA-CABI Joint Laboratory for Bio-safety in Beijing, China, has played a key role in a new review which serves to help countries prepare for a possible invasion of the 'hitchhiking' fruit and nut pest – the Yellow Spotted Stink Bug (YSSB) Erthesina fullo (Hemiptera: Pentatomidae).
Dr Feng Zhang, lead author of a paper published in the journal Insects is working with colleagues from Zespri International Ltd and says countries outside of the Yellow Spotted Stink Bug's current range need to conduct a biosecurity risk assessment for the pest.
This would include, developing a sound surveillance programme and emergency response plan before any invasion of YSSB occurs in new geographic areas.
The YSSB, a sympatric species of the equally destructive Brown Marmorated Stink Bug (Halyomorpha halys), is highly polyphagous and in China feeds on over 57 host plants in 29 families, including some economically important fruit crops such as kiwifruit, pear, peach, apple, and pomegranate. For example, the pest has caused 10%–30% yield losses and economic losses of USD 181–362 per ha (based on 1999 monetary value) in kiwifruit orchards, in Shaanxi province in 1999.
Dr Elaine Gould, Innovation Leader from Zespri says, "YSSB, known as a hitchhiker pest, could be carried into other areas outside of its current range in Asia in a variety of ways, including on passengers and within their luggage, in shipping containers, general cargo, used machinery and vehicles."
"It poses significant biosecurity threats to all other countries outside its native range.
"As far as New Zealand is concerned, and based on the mapping study with the Brown Marmorated Stink Bug, there is no doubt that the YSSB could establish in our country if it arrives and would potentially have significant economic impacts on a range of important horticultural crops, such as kiwifruit, apples, and stone fruit."
According to a recent publication by Lupoli et al (2020), the genus Erthesina, has been observed and recorded in Albania. Although it is not yet identified to species level, the authors strongly believe the specimens observed in Albania to be E. fullo.
Dr Zhang added, "Currently, famers rely heavily on spraying broad-spectrum insecticides to control the stink bugs in China, which would result in adverse effects on the environment, human health and beneficial insects.
"It is therefore very important to explore more specific and environmentally friendly control methods and apply a biologically-based, area-wide IPM strategy against YSSB as well as other stink bugs such as Brown Marmorated Stink Bug."
The research team will investigate biological control agents such as Anastatus fulloi and Beauveria bassiana for potential augmentative biological control options. Research towards development of pheromone-based lures and traps is also under way to support robust monitoring/surveillance and sustainable management of YSSB.
Additional information
Main image: The life stages of the yellow spotted stink bug showing as adult, eggs and first instars and late instar nymph (credit: Jinping Zhang and Feng Zhang).
Full paper reference
Mi, Q., Zhang, J., Gould, E., Chen, J., Sun, Z., Zhang, F. (2020). Biology, Ecology, and Management of Erthesina fullo (Hemiptera: Pentatomidae): A Review., Insects 11: 346. DOI: 10.3390/insects11060346
The paper is available to view as an open access document here: https://www.mdpi.com/2075-4450/11/6/346
Related publication
Lupoli, R., van der Heyden, T., Dioli, P. (2020). Erthesina Spinola, 1837 – a new alien genus for Europe found in Albania (Hemiptera: Pentatomidae). Heteroptera Poloniae – Acta Faunistica 14: 121–123. http://doi.org/10.5281/zenodo.3882222
Acknowledgement
Funding: This research was supported by China's donation to CABI Development Fund, and Gansu Science and Technology Key R&D Programme (No. 18YF1NG086). We also thank the support of Zespri Group Ltd (grant number BS20093).