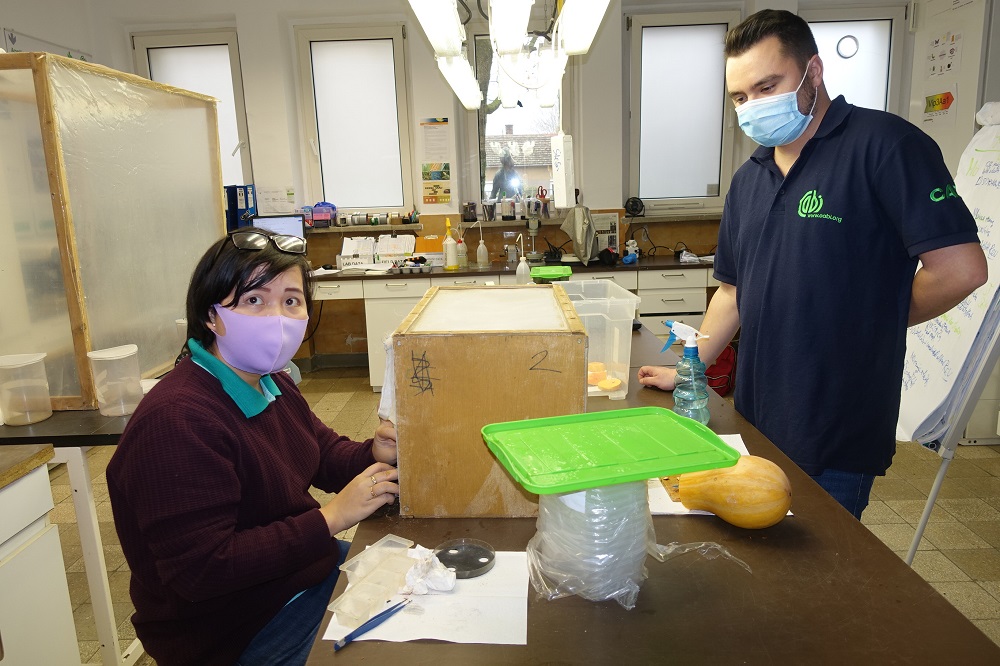 A PhD student has joined the fight against the invasive western corn rootworm (Diabrotica virgifera virgifera) with investigations into the fast-developing research area of biostimulants aimed at strengthening maize plants against the devastating pest.
Sri Ita Tarigan from Bogor Agricultural University of Indonesia, who is being supervised by CABI's invasive species expert Dr Stefan Toepfer and Dr Jozsef Kiss from the Hungarian University of Agriculture and Life Sciences, is trying to strengthen the world's third most important stable crop maize against its major soil insect pests.
One such destructive maize pests is the western corn rootworm – a leaf beetle of American origin – that likely arrived in central Europe in the mid to late 1980s and soon started to impact upon the way maize is cultivated.
Its larvae feed on maize roots and the adults on the silk and pollen of the crop and other plants. Despite decades of effort to manage the pest, it remains an important pest of concern – meriting further investigation.
Sri Ita Tarigan started to conduct her PhD research at the Plant Science Doctoral School at the Department of Integrated Plant Protection of the Hungarian University of Agriculture and Life Sciences (formerly Szent Istvan University) together with CABI Switzerland.
Her investigations run under the Stipendium Hungaricum programme which allows young scientists from all over the world to conduct state-of-the art research in Europe and to build their future careers.
Her science aims to better understand the diverse effects of microbial plant biostimulants, also called biofertilizers. This is a fast-developing research area as microbial biostimulants are often easier to register than microbial biopesticides.
Red tape in microbial biopesticide registration in Europe has led to a decline in research and development in this area. Biostimulants may fill this gap to some extent, but proper understanding of their multiple effects is needed.
In the long-term it is hoped Sri's research will lead to improved options for strengthening field crops for better tolerance to soil pests for Hungary's farmers as well as those from around the world.
Additional information
Project
Dr Stefan Toepfer has also helped to develop a beneficial-nematode based biocontrol product against western corn rootworm larvae, the first ever of such products for soil pests in field crops. Find out more here https://www.cabi.org/projects/project/63215
Blog
Read, on the CABI Blog, how CABI is working with the Hungarian University of Agriculture and Life Sciences to help 'sow the seeds' for the agricultural scientists of tomorrow here.
Relevant book
Western Corn Rootworm: Ecology and Management, Edited by S Vidal, Georg-August University, Goettingen, Germany, U Kuhlmann, CABI Bioscience, Switzerland, C Edwards, Purdue University, W Lafayette, Indiana, USA – CABI, 2004.