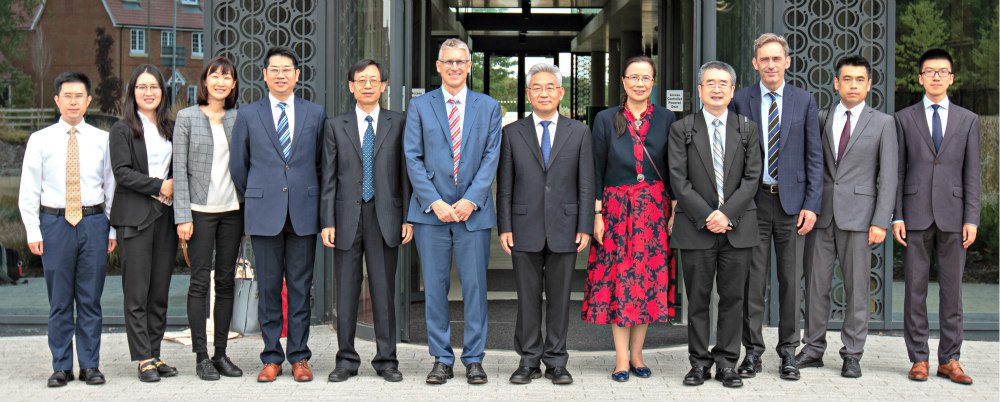 A Senior Delegation Group from the Chinese Ministry of Agriculture and Rural Affairs (MARA) and the Chinese Embassy in London has paid a visit to CABI's corporate office in Wallingford, UK, to further strengthen the partnership between China and CABI.
The nine-strong party, led by Vice Minister of MARA, Dr Taolin Zhang, included Mr Yongtian Guo, Director General of the Department of Farmland Enhancement of MARA, Mr Zhenglin Wei, Deputy Director General of International Co-operation Department and Mr Sunan Jiang, Minister-Counsellor for Science and Technology of the Chinese Embassy in the UK.
Welcoming the delegation from CABI were CEO Dr Daniel Elger, Dr Andy Robinson, Managing Director, Publishing and Dr Qiaoqiao Zhang, Director, Memberships.
The visit was the first opportunity in recent years for CABI leadership to meet with senior MARA and diplomatic officials in person and to explore opportunities to deepen collaboration between CABI and MARA.
The future collaboration will build upon outstanding progress made by the MARA-CABI Joint Laboratory for Biosafety (Joint Lab) in 2021 despite the COVID-19 pandemic.
The Joint Lab – which was launched in 2008 by MARA and CABI – is widely regarded as one of the top platforms of its type within the Chinese agricultural research and development community.
The visiting delegation were given an overview of CABI, and its key publishing products and knowledge tools – including the newly launched CABI Digital Library.
After a tour of CABI's eco-friendly corporate office, the Delegation and CABI teams discussed opportunities for further collaboration through the Joint Lab and other platforms in areas related to CABI's knowledge business, international development, bioscience and research activities.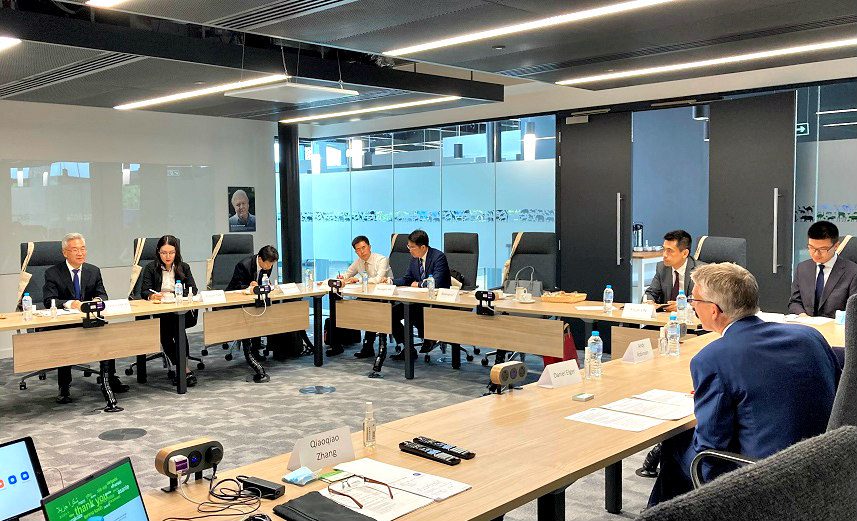 MARA and CABI developed a joint action plan in 2021. This will, for example, see the implementation of PlantwisePlus activities to support smallholder farmers in China to increase incomes and grow safer and higher quality food.
Dr Elger said, "We were very pleased to welcome the senior delegation to our corporate office and look forward to further strategic collaboration in the future. We are confident the Joint Lab will continue to play a key role not only within China but also in the sharing of Chinese knowledge and expertise with other CABI member countries."
China became a CABI member country in 1995. MARA is the National Implementing Agency for CABI, responsible for China's governance/membership of CABI, donations to the CABI Development Fund, and strategic collaboration with CABI.
Vice Minister, Dr Taolin Zhang, said, "This visit gave my colleagues and me additional insights into CABI's mission, strategies, and scope of work. CABI's focus areas and expertise, as well as its strengths in translating research into use, fit well with the priorities for the implementation of China's 14th Five-year Plan.
"I see great opportunities for deepening our collaboration in research, extension and knowledge dissemination through our Joint Lab and other platforms. I would also like to congratulate CABI on the launch of CABI Digital Library platform today."
Additional information
Main image: The Senior Delegation Group from the Chinese Ministry of Agriculture and Rural Affairs and the Chinese Embassy in the UK meet with senior members of CABI staff (Credit: CABI).
Study brief
See also the study brief 'MARA-CABI Joint Laboratory: 12 years of achievement.'
Other relevant news story
See also the news story 'MARA-CABI Joint Lab witnessed 'outstanding progress' in 2021 despite COVID-19 pandemic.'