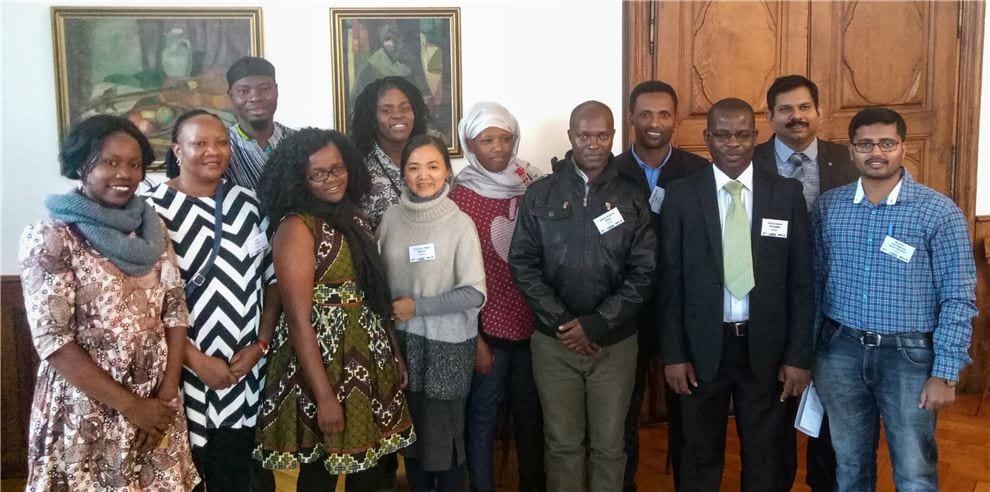 Twelve new students are embarking on their Masters of Advanced Studies (MAS) in Integrated Crop Management (ICM) after attending a welcome ceremony in Delémont, the capital of the Swiss Canton of Jura.
The course, which is coordinated by CABI and University of Neuchâtel, is being run for the fourth time and enables professionals in the field of agriculture and environment management to build upon their Master's or Bachelor's degree with practical experience in areas such as agricultural extension, research and education.
Hailing from Ghana, Uganda, Malawi, Ethiopia, Jamaica, Kenya, India, Rwanda, Vietnam, Sri Lanka and Zambia, the students will spend the next nine months gaining theoretical and practical knowledge on best practices in crop management that can then be applied in their roles in their home countries.
Pilar Eugenia Junier, Vice-Director, Institute of Biology, University of Neuchâtel, said, 'This course provides a valuable opportunity to exchange ideas and experiences between themselves and other students from the University of Neuchâtel. By working together to bring science from the laboratory to the field this course will make the world a better place.'
The course, which was launched in 2015, is taught in Switzerland with the support of the Canton of Jura, the CABI-led Plantwise Programme and the Swiss Agency for Development and Cooperation (SDC). General topics include soil management, seed selection, crop nutrition, cropping strategies, pest and landscape management, water management, statistics, national and regional agricultural policies, and rural economics.
Christophe Cattin, Head of the Division of Secondary and Tertiary Education, Department of Education, Culture and Sports, Canton Jura, said, 'It is vital that this country supports courses for international students because we are all on one planet and must find solutions to its problems together. The students' knowledge is important for us and our knowledge is important to them. I wish the students a successful and enjoyable time here in Switzerland.'
Mr Cattin also announced that the Canton of Jura has just approved and signed a further four-year contract (2018-2021) with CABI to support the MAS in ICM course.
Simon Zbinden, Co-Head Global Programme Food Security, Swiss Agency for Development and Cooperation, said, 'Humanity is capable of tackling the many food security challenges we face because of our ingenuity. It is exactly here that the MAS in ICM course comes in.
'The passionate people, high quality education and brain power combined here will allow these students to make important steps toward making agriculture more resilient in their home countries.'
One of the students has travelled from Zambia to start the course. Tiwonge Gondwe, who is an Agriculture Officer at the Ministry of Agriculture in Zambia, said, 'I'm hoping to learn a lot of things, and gain a lot of knowledge that will help in the agriculture sector and will help the farmers in Zambia – especially improving productivity of small scale farmers.'
'The knowledge I gain here will be directed to the farmers and the people who need it to help improve food production in the future.'
Find out more about the MAS in ICM course here.