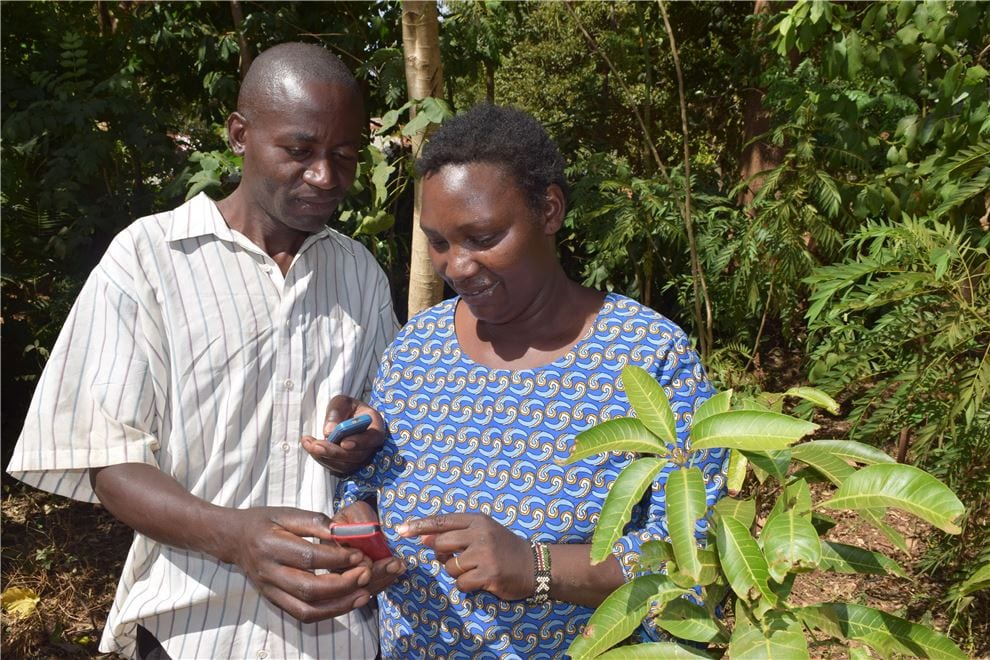 A new weapon in the fight against the Fall armyworm (FAW) caterpillar in Kenya is being launched giving thousands of smallholder farmers free expert help and advice on how to tackle the devastating pest through mobile SMS text messaging.
Precision Agriculture for Development (PAD) has joined forces with the Ministry of Agriculture and Irrigation (MAI), CABI, and Safaricom to provide the service, called 'MoA-INFO', to maize farmers throughout the country.
MoA-INFO was designed and developed in collaboration with the MAI Plant Protection Services Division and various Government agencies including the Pest Control Products Board (PCPB), the Kenya Plant Health Inspectorate Service (KEPHIS), the Agriculture Information Resource Centre (AIRC), and the Kenya Agricultural and Livestock Research Organisation (KALRO).
To date, there is no defined method of eradicating FAW. However, a number of non-chemical and chemical methods can be used to control the spread of FAW and limit losses. The new SMS information service aims to share information about these control measures as well as other important advice that all maize farmers can use to manage the pest.
MoA-INFO will give maize farmers up-to-date information on the pest, including how to identify it, determine its level of infestation, and various control methods, before offering recommendations about other crops affected by FAW, other pests and other agricultural topics. The objective of the SMS platform is to provide a comprehensive extension service to all farmers in the country free of charge.
The Ministry of Agriculture and Irrigation acknowledges the support of Precision Agriculture for Development (PAD) in the development and implementation of this innovative methodology of disseminating information to farmers. This service has created a platform to leverage on use of mobile phones to bridge the gap of reaching all farmers in the country with extension messages on this devastating pest.
Such information will guide farmers with sound FAW management measures, thereby contributing towards the overall Government agenda on 100% food security. Maize is the staple food for approximately 80% of the Kenyan population.  Any efforts towards control of fall army worm, an insect with potential to cause up to 100% yield losses is important. In the main 2017 maize cropping season, deployment of various management measures helped to reduce FAW maize yield reduction to a national average of 20% from the 100% expected.
MoA-INFO is currently available to all Safaricom customers for free. It will soon be available to Airtel customers for free too. All a farmer needs to do is to send an SMS message with the word 'SHAMBA' (for messages in Kiswahili) or 'FARM' (for messages in English) to 40130. Sending and receiving SMS messages is free.
'We are very excited to be part of a partnership that will benefit millions of maize farmers in the country. Following a successful pilot in Western Kenya that invited 1.4 million farmers to subscribe to the platform, we are now targeting 10 million farmers nationwide. This, we believe, will increase the knowledge base on Fall Armyworm, which will ultimately help reduce the losses maize farmers face as result of the pest,' said Sanda Ojiambo, Head of Corporate Responsibility, Safaricom.
The MoA-INFO service has already been piloted in Western Kenya successfully. Derrick Ooko, a farmer from Matayos South, said, 'This story of Fall Armyworm is a big challenge in Busia County, mostly to small scale farmers. The information that i have received from MoA-INFO SMS has greatly assisted me to know how to manage the pest. I agree information is power and I am very grateful.'
Precision Agriculture for Development (PAD) PAD is running and managing the MoA-INFO SMS information service with approval of the Government and other development partners.
'It is my hope this SMS mobile service, will reach millions of farmers in Kenya. They will access for free guidance in the fight against Fall Armyworm, which will ultimately improve livelihoods and national food security', says Emmanuel Bakirdjian, PAD's Kenya Country Director.
Notes to editors
Media enquiries
Journalists can contact Emmanuel Bakirdjian and Carol Nekesa from Precision Agriculture for Development at ebakirdjian@precisionag.org and cnekesa@precisionag.org or 0707012589 for more information.
Photograph
The available photograph shows Emily Jeptanui and Joseph Ikoyo testing PAD's SMS mobile service.
About the Fall armyworm (FAW): FAW is a moth indigenous to the Americas which first arrived in West Africa in 2016 and in Kenya in 2017. The invasive pest feeds on more than 80 plant species, including maize, rice, sorghum, millet, sugarcane, vegetable crops, and cotton. Unlike other pests, FAW doesn't just eat leaves, it also bores into the stalks of plants which makes it harder to control and leaves greater damages. Once it reaches the moth stage, it can fly long distances (over 500km) and spread quickly across large geographical areas. Moreover, favourable climatic conditions in Africa suggest that the pest can persist throughout much of the year.
Precision Agriculture for Development (PAD), a non-profit organization headquartered in the US and registered in Kenya, provides high-quality, customized, and actionable agricultural information and advice to smallholder farmers via their mobile phones to increase agricultural productivity, farmer incomes, and environmental sustainability. PAD is running and managing the SMS information service on behalf of the MAI.
Safaricom is the leading mobile network provider in Kenya commanding a customer base of over 25 million subscribers. Safaricom is supporting this project by broadcasting an SMS to their customers inviting them to join the SMS information service for free. Safaricom customers will receive an invitation SMS from 'MoA-INFO' with instructions on how to join the platform.
CABI is an international not-for-profit organization that improves people's lives by providing information and applying scientific expertise to solve problems in agriculture and the environment.
Through knowledge sharing and science, CABI helps address issues of global concern such as improving global food security and safeguarding the environment. We do this by helping farmers grow more and lose less of what they produce, combating threats to agriculture and the environment from pests and diseases, protecting biodiversity from invasive species, and improving access to agricultural and environmental scientific knowledge. Our 48 member countries guide and influence our core areas of work, which include development and research projects, scientific publishing and microbial services.
We gratefully acknowledge the core financial support from our member countries (and lead agencies) including the United Kingdom (Department for International Development), China (Chinese Ministry of Agriculture), Australia (Australian Centre for International Agricultural Research), Canada (Agriculture and Agri-Food Canada), Netherlands (Directorate-General for International Cooperation, and Switzerland (Swiss Agency for Development and Cooperation). Other sources of funding include the fees paid by our member countries and profits from our publishing activities which enable CABI to support rural development and scientific research around the world.
CABI supported the development of the FAW recommendations.
Related News & Blogs
CABI News
18 September 2023