28 January 2015 – CABI's Dr Arne Witt, Coordinator Invasive Species, will be speaking at The Economist Events' Feeding the World summit in Amsterdam on 12 February 2015.
Dr Witt will join a panel discussion on strategies for the reduction of food loss and food waste, pre- and post- harvest. Concentrating on Invasive Alien Species (IAS), he will consider the impact that invasive microbes, insects and plants, introduced to new regions through human activities, are having on food security and livelihoods.
With the Millennium Development Goals coming to an end in 2015, talk is now turning to what the subsequent Sustainable Development Goals (SDGs) should seek to address. From human factors such as supply chains, nutrition and western food waste, to geographical and environmental influences like climate change and water supply, expert speakers will unpick complex topics and discuss the implications of the tremendous increase in food demand and changing food patterns.
Other topics that will be discussed over the course of the day include:
– Solutions to the perennial challenges of both under-nutrition and over-consumption
– The role of women in tackling the global challenge of food and nutrition security
– Information about how science is contributing to feeding the world
– Whether the new framework of SDGs meets the emerging challenges of today
– The role of the private sector and Western economies in supporting value chains across the developing world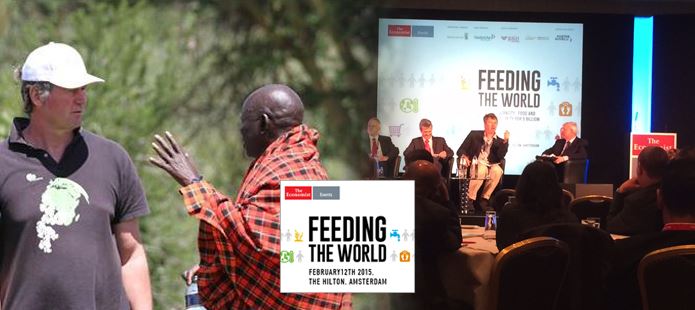 The Economist Events is offering friends of CABI a 15% discount to attend this event. Quote CABI/DC as a reference code when registering.
For the latest programme and speaker information, and to book your place, visit www.food.economist.com or email emeaevents@economist.com.
Photo: Dr Arne Witt talks to a Maasai herder about the problems that the invasive cactus, Opuntia stricta, causes his livestock – Laikipia, Kenya
For all our latest news, click here.