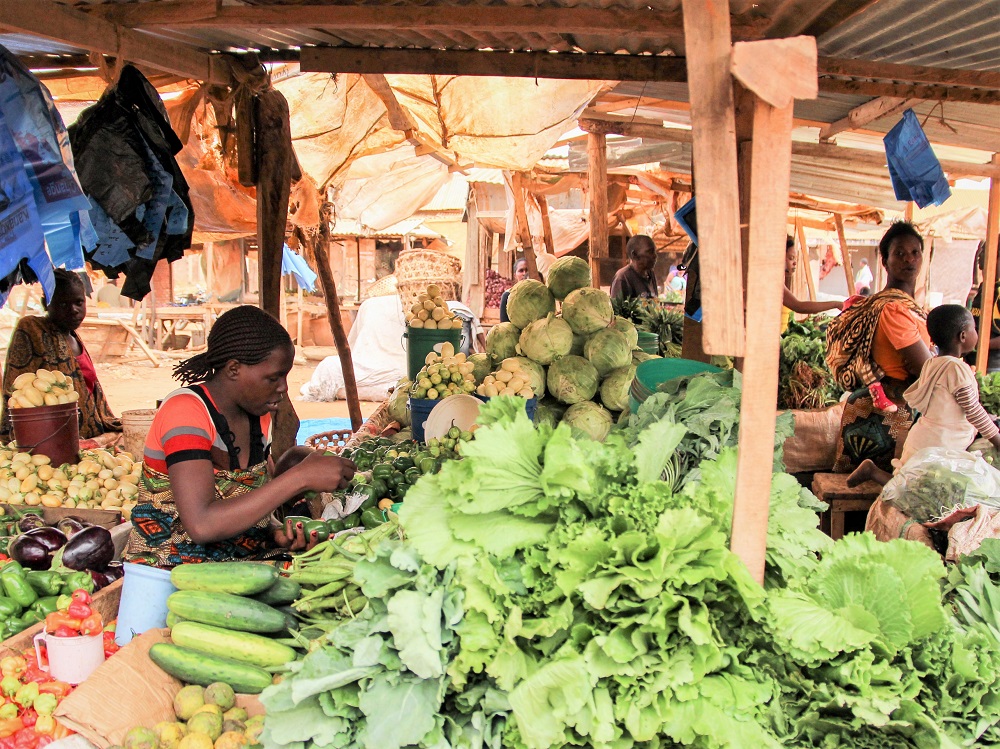 Scientists from CABI's Africa Centre, with expertise in strengthening and diversifying food systems, have played a key role in sharing their knowledge and research at the Power on Your Plate: All-Africa Summit on Diversifying Food Systems with African Traditional Vegetables to Increase Health, Nutrition and Wealth.
The Regional Director CABI Africa, Dr Morris Akiri took part in the CABI and USAID sponsored summit convened by the World Vegetable Center and Rutgers University. Dr Monica Kansiime also attended the event, held at the Gran Meliá Hotel in Arusha, Tanzania. The summit was officially opened by the Former Prime Minister of Tanzania and Chairman of the Agri Thamani Foundation, The Hon. Mr Peter K Pinda.
As part of 75 scientific presentations in six sessions covering diversity, breeding and seed systems; value chains and scaling; agronomy and production systems; food environments; nutrition and health; and other uses of these valuable crops beyond food, Dr Kansiime updated the summit on positive impacts of the Good Seed Initiative – a project which was implemented in Tanzania and Uganda.
The Good Seed Initiative reached more than one million consumers and growers – through radio programmes, seed rallies, nutritional outreaches, cook shows, agricultural shows and other events – as part of a training programme to bring about improvements in productivity. A study brief, on the production and sales of quality assured African Indigenous Vegetables (AIVs), was also developed and disseminated to stakeholders in Tanzania.
Dr Akiri took part in a high-level panel on 'Advancing the Continental Agenda on Traditional African Vegetables' along with senior government officials, business partners from the public and private sector, bankers, and leaders of non-governmental organizations (NGOs).
The summit also included a youth panel that explored production and distribution issues with seven young farmers and agricultural entrepreneurs from Kenya, Tanzania and Uganda.
Other speakers at the summit included Dr Marco Wopereis, Director General, World Vegetable Center, Ms. Jacqueline Mkindi, CEO Tanzania Horticulture Association and Dr Lawrence Haddad, Executive Director of GAIN.
Dr Akiri said, "Africa is home to a large number of plant species with the potential to invigorate the continent's horticultural value chain. However, whether consumed as nutritious food or used as the foundation for natural health products, these traditional vegetables remain untapped and underutilized.
"For example, the informal nature of the African indigenous vegetable markets, characterised by poor product handling, has contributed to low farm gate prices and limited access to structured markets.
"There is opportunity to continue working in partnership with all stakeholders to formalise the Traditional African Vegetables Value chain, with an intentional focus on removing barriers faced particularly by women and the youth. Financing new infrastructural technologies in the rural areas can potentially improve the livelihoods of millions of smallholder farmers and also contribute to local, national and regional food security."
Additional information
Find out more about 'Promoting Good Seed in East Africa' from the project page.
CABI works to create sustainable value chains and facilitates access to markets across Africa and other parts of the world. Find out more about our work on Value Chains and Trade.
In Africa over 80% of people living in rural areas rely on the crops they grow for food and income. They face many challenges in growing sufficient good quality produce, such as changing climatic conditions, threats from pests and diseases, lack of access to markets, and limited access to current agricultural information.
CABI's Africa Regional Centre in Kenya strives to improve livelihoods, working with the communities that it serves to address the problems they face using sustainable approaches. Find out more here.
Find out more about the Power on Your Plate: All-Africa Summit on Diversifying Food Systems with African Traditional Vegetables to Increase Health, Nutrition and Wealth from the website: https://avrdc.org/power-on-your-plate/schedule/
See also the blog  'Sowing the seeds' of growth and poverty alleviation is the sweet smile of success for smallholder farmers.'