27 January2015 – CABI has been selected to host the secretariat for Global Open Data for Agriculture and Nutrition (GODAN). GODAN supports global efforts to make agricultural and nutritional data available, accessible, and usable for unrestricted use worldwide. CABI was selected to host its secretariat based on its strong global network and track record of relevant expertise in agriculture, nutrition and knowledge management.
On 19-21 January, CABI supported GODAN's first partners' meeting in Wageningen, the Netherlands where plans for the consortium's future agenda and secretariat were discussed. A hackathon, held in parallel with the meeting, showed how open data access can help solve real world problems, like fostering more sustainable farming (www.futurefoodhack.nl).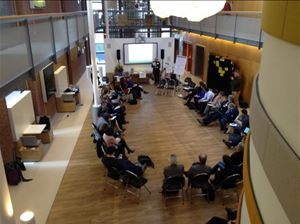 Delegates discuss agriculture, nutrition and open data in Wageningen
Open access to research, and open publication of data, are vital resources for food security and nutrition. Increasing open data at the institutional, national and international levels can benefit innovation in agriculture and nutrition, helping people to grow more nutritious food, especially in developing countries.
GODAN focuses on building high-level policy, and public and private institutional support for open data. The initiative encourages collaboration and cooperation among existing agriculture and open data activities, without duplication, and brings together stakeholders to solve long-standing global problems like food and nutritional security.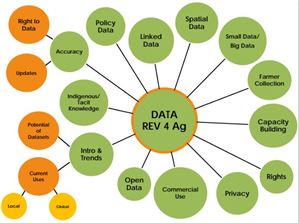 CTA infographic showing different data types, © ICT Update, CTA
In the coming weeks and months, CABI will focus on setting up the secretariat at its headquarters in Wallingford, UK and supporting GODAN's future objectives.
Martin Parr, Programme Manager at CABI, says: "GODAN is about impact. It's about finding the open data practices that work and using them to advocate for more open data in agriculture and nutrition. We're using a data revolution to drive innovation in agriculture and nutrition, which ultimately means improved economic growth for farmers, especially those in the developing world, and the ability for more people to feed themselves."
If you are interested in joining GODAN, go to: http://www.godan.info/
About GODAN
GODAN was officially launched with high level support at the Open Government Partnership Summit on 31 October 2013. GODAN is funded by the US government, DFID, the government of the Netherlands, FAO, CTA, CGIAR, ODI and CABI. The consortium has quickly grown to 118 partners.
For more information about GODAN, go to: http://www.godan.info/
Follow GODAN developments on Twitter using #GODAN
For all our latest news, click here.
Related News & Blogs
CABI News
CABI has been awarded a $1.49 million grant from the Gates Foundation to work with them to help increase food security in India and Ethiopia through better access to data on soil health, agronomy and fertilizers.
21 January 2019