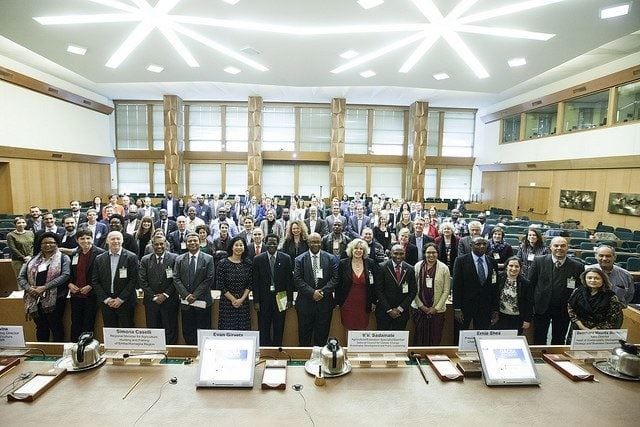 CABI has published a practice brief on a new concept of climate-smart pest management (CSPM) to bring greater attention to the topic of pest management within the wider framework of climate smart agriculture (CSA).
The practice brief was developed on behalf of the Global Alliance for Climate Smart Agriculture (GACSA) and was presented by Luca Heeb and Emma Jenner at 3rd Annual GACSA Forum held at FAO Headquarters in Rome on 12-14 December 2017.
The practice brief will be published on the GACSA webpage (http://www.fao.org/gacsa/en/) before the end of the year and will form one of a series of policy and practice briefs that are developed by experts to guide policy makers, investors, producers and other stakeholders on how to address and implement a variety of CSA practices and approaches across different geographical scales.
Up until now there has been limited focus within the CSA arena on how the effects of climate change can exacerbate pest-induced crop losses. Even less attention has been given to developing approaches for managing or avoiding the impact that changing pest populations, diversity and spread has on farmers' crops.
This CSPM practice brief, therefore, outlines both the impact that climate change is having on pests as well as the direct knock-on effects this can have on food security, farmer livelihoods and overall national social and economic welfare. It goes on to present the CSPM approach and how it can support farmers to take immediate action on their farms to increase the resilience of their crops and surrounding landscapes to increased pest pressures. It also provides guidance on how to better manage pest problems when they arise.
The CSPM approach looks more broadly than just farm-level and promotes action by other stakeholders to develop and provide the supporting and enabling environment required to facilitate adoption of CSPM practices by farmers. This includes easy access by farmers to a well-informed and reliable advisory service, provision of pest risk information and pest diagnosis services and links to farmer networks. It also involves the establishment of financial services to support necessary on-farm investments, as well as the development of policies and regulations that direct national implementation of CSPM approaches.
'The publication of this practice brief is very timely as it coincides with the announcement by the 23rd Conference of Parties to the United Nations Framework Convention on Climate Change that there should be a greater focus on implementing climate actions in the agriculture sector,' said Luca Heeb, co-author of the brief.
'CABI will therefore continue to communicate and promote the concept of climate-smart pest management among national and regional CSA alliances in order to gain the recognition and resources required to implement concrete actions to support farmers with managing changing pest threats. Without a solid framework and the necessary tools in place to deal with increasing pest invasions and pest damage in the face of climate change, farmer livelihoods, biodiversity and food security are at great risk.'
To view the full climate-smart pest management practice brief click here