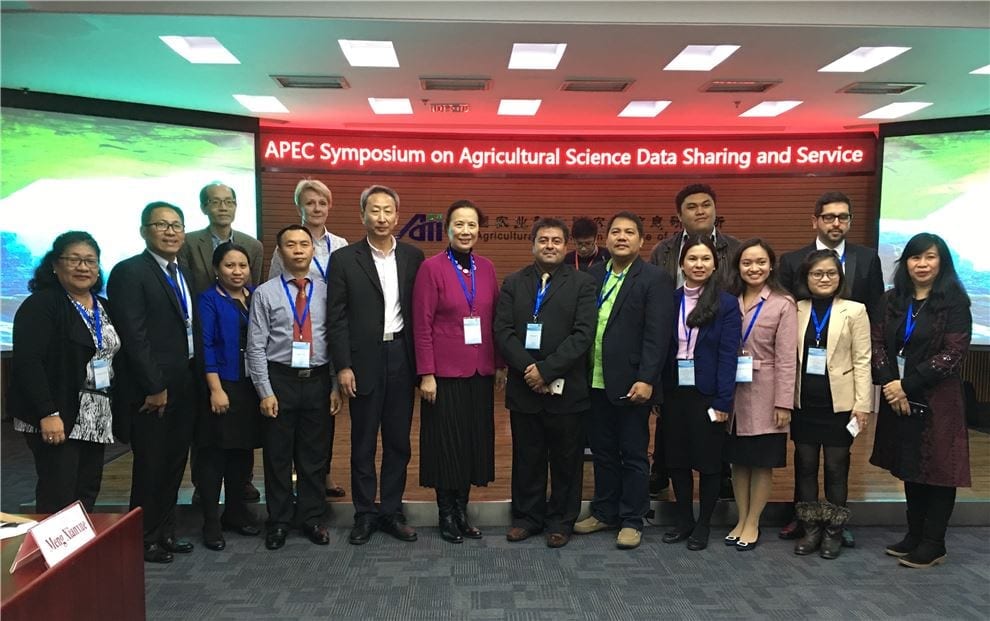 CABI contributed to an Asia Pacific Economic Co-operation (APEC) Symposium on Agricultural Science Data Sharing and Service which brought together over 30 participants from 15 countries within APEC and other national and international organisations at a meeting in in Beijing.
The aim of the symposium was to enhance mutual understanding on the status of agricultural science data sharing in APEC members; exchange experiences and lessons on science and technology resources sharing; and discuss technology frameworks for agricultural data sharing in agriculture.
The event, which was held from 7-9 December 2017 was organised by the Agricultural Information Institute of the Chinese Academy of Agricultural Sciences (AII-CAAS) and funded by the China-APEC Co-operation Fund of the Chinese Ministry of Finance.
CABI delivered a keynote presentation at the first formal session on sharing knowledge and experiences in data management.  Many of the experts attending were from CABI member countries, such as Bangladesh, Chile, China, Malaysia, Philippines, Pakistan and Vietnam.
Dr Qiaoqiao Zhang, Director of Memberships, CABI (also a current guest professor at AII-CAAS since 1997), talked about how open data and data sharing can contribute to the realisation of the UN's Sustainable Development Goals. She highlighted the positive social impacts produced by global initiatives and programmes like the Global Open Data for Agriculture and Nutrition (GODAN), CABI's Plantwise, CABI's Pest Risk Information Service (PRISE) and some Open Research Initiatives.  Dr Zhang noted that during the first High Level Political Forum of the UN in 2016, governments welcomed the proposal on 'enhancing national capacities for evidence-based and data-driven decision-making', and called for 'further building and strengthening capacities for data collection, disaggregation, dissemination and analysis at all levels.'
Dr Zhang said, 'The collaboration between AII-CAAS and CABI has been on-going for more than 30 years and has built on the successful and long-term collaboration for enhancing CAB Abstracts which holds more than 11 million abstracts and full text of scientific research from around the world.
'This collaboration has led to an increased coverage of Chinese literature, greater access to CABI databases by Chinese institutions through consortia arrangements, and more collaboration in open data, big data and data analysis for pest and disease risk assessment.'
Mr Andrew Benton, Manager, Agri-Tech in China Newton Network, CABI & Rothamsted Research, also contributed to the Symposium by making a short presentation on the Agri-Tech in China Newton Network, as an example of a bilateral collaboration programme that fosters and supports data-enabled innovation in the Agri-Tech field. He highlighted how the Network is developing to include many big data and satellite-based GIS agencies in both the UK and China, and how it is helping them develop joint farm-level technologies to solve agricultural production and food sustainability problems that affect both countries.
The Symposium ended with the call for building an APEC Agricultural Data Union by AII-CAAS, which has offered to provide operational and technical support to this Union.
Further information
CABI is committed to open data and data sharing, and has demonstrated such commitments through its flagship programme – Plantwise, of which the open-access Knowledge Bank is a gateway to data analysis for targeted crop protection and best-practice pest management advice.
CABI is also proud to host the Secretariat of GODAN (now consisting of over 600 partners), which advocates for important datasets in agriculture and nutrition to be considered global public goods and be made available to everyone. GODAN Action, launched by the UK's Department for International Development (DFID) is designed to enable data users, producers and intermediaries to engage effectively with open data and maximise its potential for impact in the agriculture and nutrition sectors.